What a lovely morning here in the nation's capital! After a week of sweltering
heat, temps have finally relaxed a bit to allow us a breezy weekend.
BUT the day hasn't begun until you've had your morning tea! Drop
a few ice cubes in this morning! Pinky's up, it's time to sip slow!
As the title would suggest, once again, this morning's tea is sick with baby
fever! (Get it morning sickness? Ha ha? Ok anyway) Here's to a celebrity
mama-in-the-making who is just glowing with
pregnancy bliss. Miss Kelly baby! After announcing her pregnancy just a few
days ago on instagram, R&B songtress Kelly Rowland blessed instagram
once again yesterday showing off her precious little baby bump as she did
yoga! With a number of workout vids under her belt, there's no doubt that this
diva will be keeping her body in tip top shape while she carries her bundle of
joy. It's so great to see her beaming with happiness!
And in other baby news, congrats to Lebron and Savannah James! He
may not be winning on the court, but he's surely winning at home! Yesterday,
Miami Heat president Pat Riley announced in a post-game interview that the
James' will be welcoming a baby girl into their family! Baby girl baller possibly?!
Guess we'll have to wait and see!
And Lastly, here's a starlet that I'm just soo anticipating baby news from!
The preacher's wife herself, Miss Meagan Good, sizzled on the cover of "Rolling
Out" Mag where she talks about being a sexy first lady, religious criticism, and
whether she'll ever be going nude for a role. She blazes the spread in a plunging
burnt orange gown and summery canary yellow frock. Check out the photos
and an excerpt from the spread courtesy of theybf.com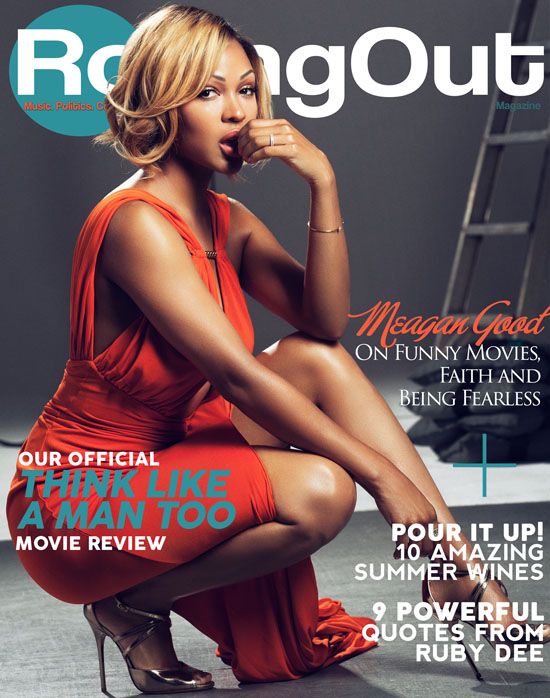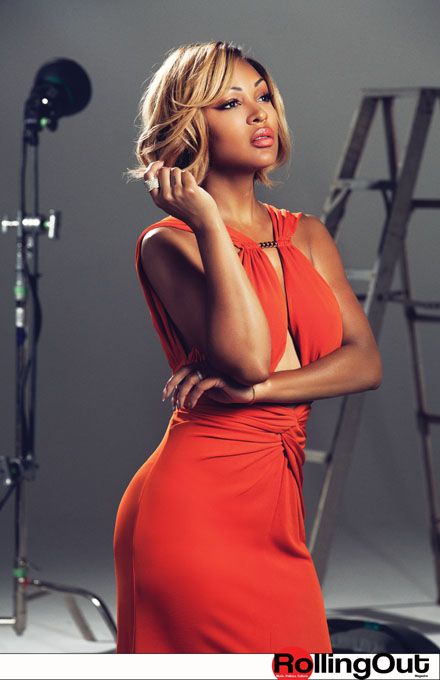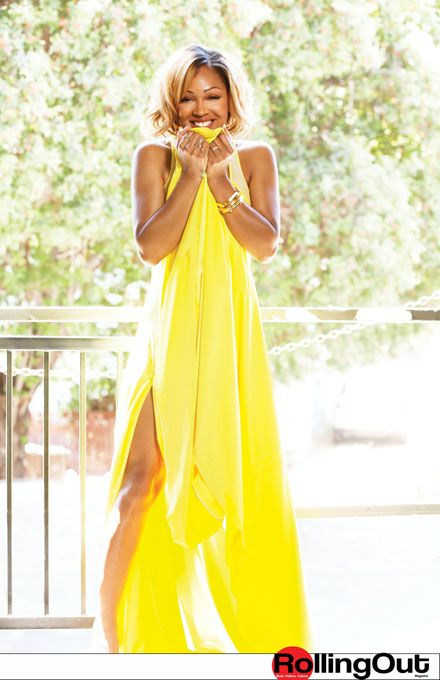 Here are the highlights:
On being sexy:
"I really don't think there's anything wrong with being sexy," she says matter-of-factly. "God created our bodies as women. He created us to be beautiful, to be sexy, to be powerful, to be fearless — to be amazing. I do respect and understand the fact that when you come into the sanctuary, you need to be dressed appropriately because you are not the star — Jesus is the star. That I agree with 100 percent." While she understands that dressing appropriately is necessary, Good also wants more people to recognize that "appropriate" is always relative. Especially outside of Sunday morning service.
On "religious" people who criticize her:
"I feel like religion can get very judgmental and a lot of people don't approach you with love," she says, pausing thoughtfully. "I try to be conscious of the responsibility I have as a Christian, but if I did everything everyone told me to do or tried to please everyone, I couldn't have my hair a particular way, I couldn't wear certain clothes, I couldn't play certain characters, I can't hang out with certain people, can't wear a certain amount of makeup — and you can't let people run your life. You have to look to God. People will fall in line."
On getting nude for a movie role:
"I have no problem with nudity — it just has to not be exploitative and it has to be important to tell the story," she explains. "It depends on the script, the character, the story, the tone of the movie — all of those things. I commend women of every nationality that are bold enough to tell a story in a way that's fearless. I just haven't found a project where I felt it was necessary to do that. The scenes I've come across seemed exploitative and I just didn't do it.
Ahhh! I love it! Well TGIF! Have a fabulous weekend and remember, pinky's
up, and sip slow!
Nikki Strong
Follow Me:
Facebook
Twitter
Her energy is infectious! "Edutainment" is her specialty. When Nikki Strong is on, you know you will get caught up in what's going down (and learn something new too)! From Soft Rock to Hip-Hop, Gospel to World music, Nikki's 15+ year radio career involves working in various capacities and formats. Currently Nikki serves as Producer of the Hang Suite on Saturday nights and the go-to Talent whenever anyone takes vacation time or needs a fun host for a remote event. She also host the news and entertainment show "The Scene" on SiriusXM 141 H.U.R. voices Thursdays at 12:30p. Engaging and informative, this Harlem native loves to have a good time with great music! One of her most fulfilling gigs was giving birth to the "Neo-Soul" channel, The Flow, at XM Satellite Radio where she worked as Music Director. She also served as Music Director and Air Talent for the World Music station XM100 WorldZone and then went on to help build an international Hip Hop music station for WorldSpace Satellite Radio. These last two positions, in particular, enabled Nikki to experience first hand how impactful African American culture, especially Soul, Hip Hop and Jazz have been on music from all over the world. Off air, Nikki loves the theater arts and also works as an actress/dancer/singer and voice over artist. She also teaches dance to youth in the DMV area. Occasionally you may catch her substitute teaching a Ballet, Modern or Jazz class for adults at several of the local dance studios, or flexing her acting chops on stage at one of DC's great theatres. Nikki is proud that DC has been her home for over 10 years. She is excited and honored to be a member of the WHUR family and its rich legacy.