This Fathers Day weekend was filled with nothing but joy! Pinky's up, it's time to sip slow!
More congrats goes out to Ciara and Future on the birth of their baby boy, Future Jr., who Ciara finally released a photograph of yesterday on Father's Day to honor her Fiance'! And might I say, this little Prince is just ADORABLE! Ciara and Future, we wish you nothing but the best as you embark on your journey of parenthood!
Ciara captioned her photo with the sweet message: "Hey Dad aka Big @Future. Baby Future Loves You.#HappyFathersDay." How Cute!

In other celeb baby news, another adorable little tike is on the loose. Yesterday Newlywed Kim Kardashian also honored the love of her life, husband  Kanye West, by posting a heart melting photograph of him napping with their birthday girl, North "Nori" West. The photograph was taken after they enjoyed a busy day together. I do believe that this little princess is going to be breaking hearts (and pockets) in the near future!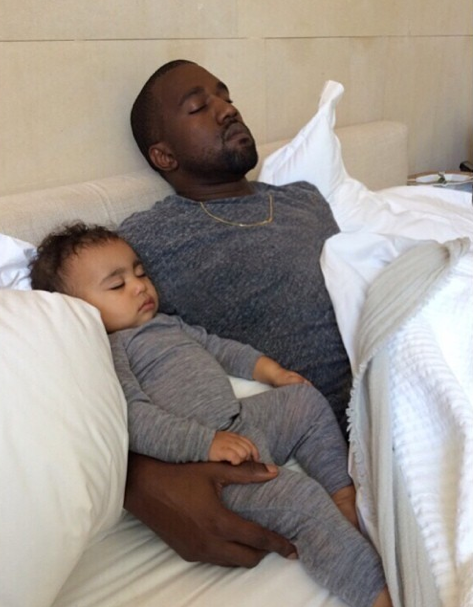 Speaking of rap babies, Happy Father's Day as well to Jay-Z who spent his special day with his princess, Blue Ivy, as well! And get this, the diva and training finally got her do did! Ooo Kill Em! Baby Blue sported a cute top knot bun which was even adorned with cute kiddie hair accessories! Yes Miss Blue you better work! Not sure of who was responsible for laying her tresses but I'm sure everyone who signed last weeks petition is just happy for the success of it!
Here you can see Blue Ivy's fabulous Father's Day coif courtesy of MediaTakeOut.com
And last but certainly not least, a HUGE congratulations goes out to Eve who exchanged vows with her long time boyfriend, Maxmillion Cooper, on Friday in Ibiza. With Eve's music success and Max's billionaire status, this is surely a power couple! Best of wishes to the two of them! Eve certainly deserves it after all the chaos she's had to endure in her past. It's true that after the rain comes the rainbow! Let's cross our fingers for more baby bells!
Now that right there is one grown and sexy couple! You go girl!
Have a fabulous Monday and remember, pinky's up and sip slow!
Nikki Strong
Follow Me:
Facebook
Twitter
Her energy is infectious! "Edutainment" is her specialty. When Nikki Strong is on, you know you will get caught up in what's going down (and learn something new too)! From Soft Rock to Hip-Hop, Gospel to World music, Nikki's 15+ year radio career involves working in various capacities and formats. Currently Nikki serves as Producer of the Hang Suite on Saturday nights and the go-to Talent whenever anyone takes vacation time or needs a fun host for a remote event. She also host the news and entertainment show "The Scene" on SiriusXM 141 H.U.R. voices Thursdays at 12:30p. Engaging and informative, this Harlem native loves to have a good time with great music! One of her most fulfilling gigs was giving birth to the "Neo-Soul" channel, The Flow, at XM Satellite Radio where she worked as Music Director. She also served as Music Director and Air Talent for the World Music station XM100 WorldZone and then went on to help build an international Hip Hop music station for WorldSpace Satellite Radio. These last two positions, in particular, enabled Nikki to experience first hand how impactful African American culture, especially Soul, Hip Hop and Jazz have been on music from all over the world. Off air, Nikki loves the theater arts and also works as an actress/dancer/singer and voice over artist. She also teaches dance to youth in the DMV area. Occasionally you may catch her substitute teaching a Ballet, Modern or Jazz class for adults at several of the local dance studios, or flexing her acting chops on stage at one of DC's great theatres. Nikki is proud that DC has been her home for over 10 years. She is excited and honored to be a member of the WHUR family and its rich legacy.