Even though many Native Americans participate in the spirit of gratitude and family togetherness on this Thanksgiving Holiday, it is a mixed blessing.  There are many ways in which this holiday is observed by the true hosts of this country. To expand your perspective of the history of Thanksgiving and how many Native Americans endeavor to deal with it – whether it be through humor, education or other means — here are some links.  Perhaps in the process, we can learn to reteach ourselves and one another and by extension re-imagine this holiday in a way that stays true to the idea of gratitude and cultural exchange and that ultimately moves us closer to that more "perfect union".
http://www.tolerance.org/lesson/thanksgiving-mourning  (this link gives a school lesson on how to teach the holiday, good stuff)
http://www.alternet.org/story/4391/thanksgiving%3A_a_native_american_view
http://indiancountrytodaymedianetwork.com/2011/11/22/wampanoag-side-first-thanksgiving-story-64076
http://racerelations.about.com/od/historyofracerelations/a/ShouldYouCelebrateThanksgiving.htm
http://fusion.net/culture/story/native-americans-laugh-thanksgiving-11279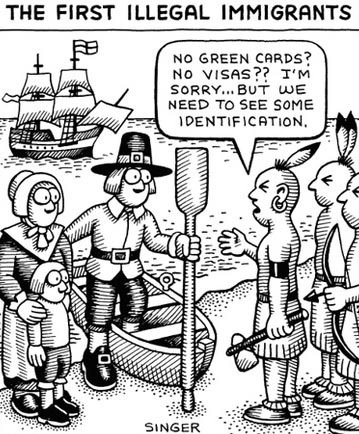 One thing I will say is that there is so much more material available via the internet this year than last.  Just simply google native american perspective of Thanksgiving, click and read away.  Don't forget to share and post on FB, Twitter and other media too.
Much Love! — NS