Many of us saw the TLC biopic CrazySexyCool on VH1.  Of course there were many holes in the movie. Atlanta musical treasures Jermaine DuPri and Rico Wade are two examples of people who weren't mentioned that had a hand in the group's success. Word is already out that Pebbles is angry about her portrayal, and now there are others who are endeavoring to fill in the blanks, including the original "C" of TLC (before "Chilli") to flesh out the "real" TLC story. The following excerpt below is taken from the website that reps TLC's birthplace Hotlanta –  straightfromthea.com
—
The TLC 'CrazySexyCool' biopic was entertaining to say the least.  The virtual reconciliation of the group brought back fond memories of that old Atlanta, but when the story was told there were so many gaps that Google couldn't even help fill.
Let's look at the story of TLC from the very beginning….
TLC was born out of the imagination of Atlanta record industry executive, Ian Burke, a man known for his keen sense of talent, concept and marketing, mostly responsible for discovering many of Atlanta's most famed and beloved artists.
At that time, he was managing Crystal Jones a young singer/dancer whose look inspired him to develop the visual concept of what would eventually be called, TLC.
Ian and Crystal collectively imagined a female version of BBD, aka Bell Biv and DeVoe, an all-male group sensation of the 90's, fusing R&B and Hip Hop; a revolutionary move at that time. The clothes, styling and sense of creative was born of those two minds and they were determined to seek out the other two girls to fulfill the vision.
Enter Atlanta's own, Rico Wade.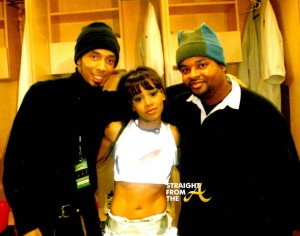 Wade, a famed producer and celebrated Hip Hop trailblazer known for his contributions to the rise of the new Southern influence on Hip Hop, was one third of Organized Noize, the musical think tank behind Outkast and Goodie Mob.
Rico advised Ian to meet Tionne Watkins (now known as T-Boz) and to arrange a private audition with Lisa Lopes (aka Left Eye).
While Burke immediately saw potential in Tionne, he was unsure of how Lisa would fit; however it was at the urging of Crystal for him not to discount Lisa, until he heard her rhyme. Crystal was convinced that what they found was priceless and was certain that once Ian heard Lisa, he would see thing's Crystal's way.
Tionne was employed at an Atlanta area salon at the time and worked alongside fellow stylist Marie (who happened to be R&B diva Perri 'Pebbles' Reid's stylist).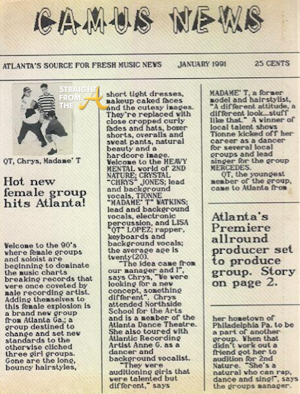 Pebbles was in search of an all girl's band and once Marie shared this information with Tionne, the three girls secured an audition. The girl's performed a song called 'I Got It Going On,' which was produced by music industry giant Jermaine DuPri who incidentally is also responsible for coaching Tionne on the distinct and sexy lower-register growl for which she would come to be forever known.
It was Jermaine who urged Tionne to own her vocal distinction, which resulted in defining the identity of TLC. With that audition, the original TLC then known as '2nd Nature', was born. It was Pebbles who decided to change their name to TLC. T, for Tionne, L for Lisa and C, for Crystal.
During those years Pebbles was at the apex of fame and popularity and was also married to mega-record industry influencer L.A. Reid.   She possessed power, excess and wealth beyond the girls' imagination and it was this toxic mix of excitement and opportunity, that proved overwhelming to the young 2nd Nature, who had visions of recording sugar plums dancing in their heads.
The trio fell prey to Pebbles' savvy and since we all know the music industry is a shady game, there was deception and lies but there was also 'thirst' involved.
The looming promise of a future with Pebbles and her label Pebbletone, combined with greed and insecurity resulted in the dismantling of the original three and their founding manager, Crystal Jones.
One could surmise that their subsequent financial issues stemmed from the karma, but who knows?  The rest of the story is history….. subjective history, but history nonetheless.
For more info and even video of a recent interview w/Crystal and Ian on the history of TLC, click here
Shouts to straightfromthea.com for the scoop. For more entertainment news check out The Scene every Thursday 12:30p on HUR Voices SiriusXM 141.